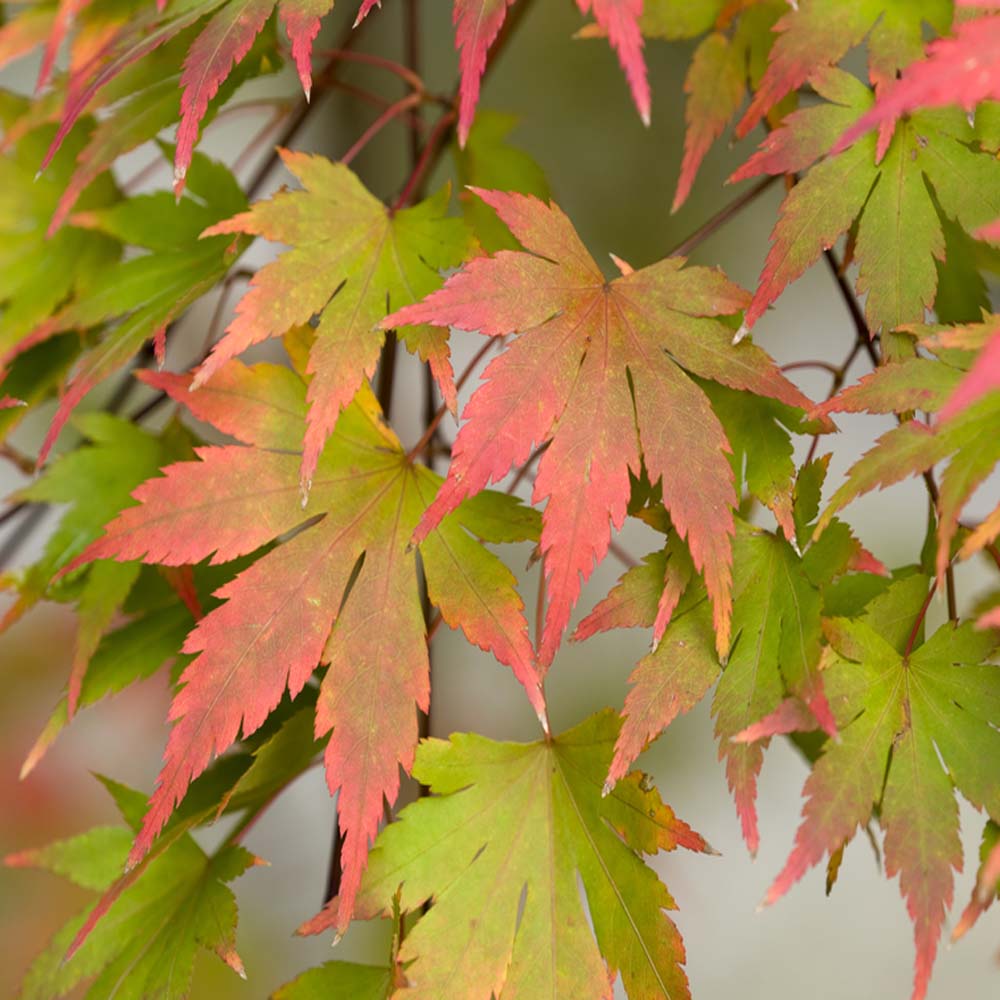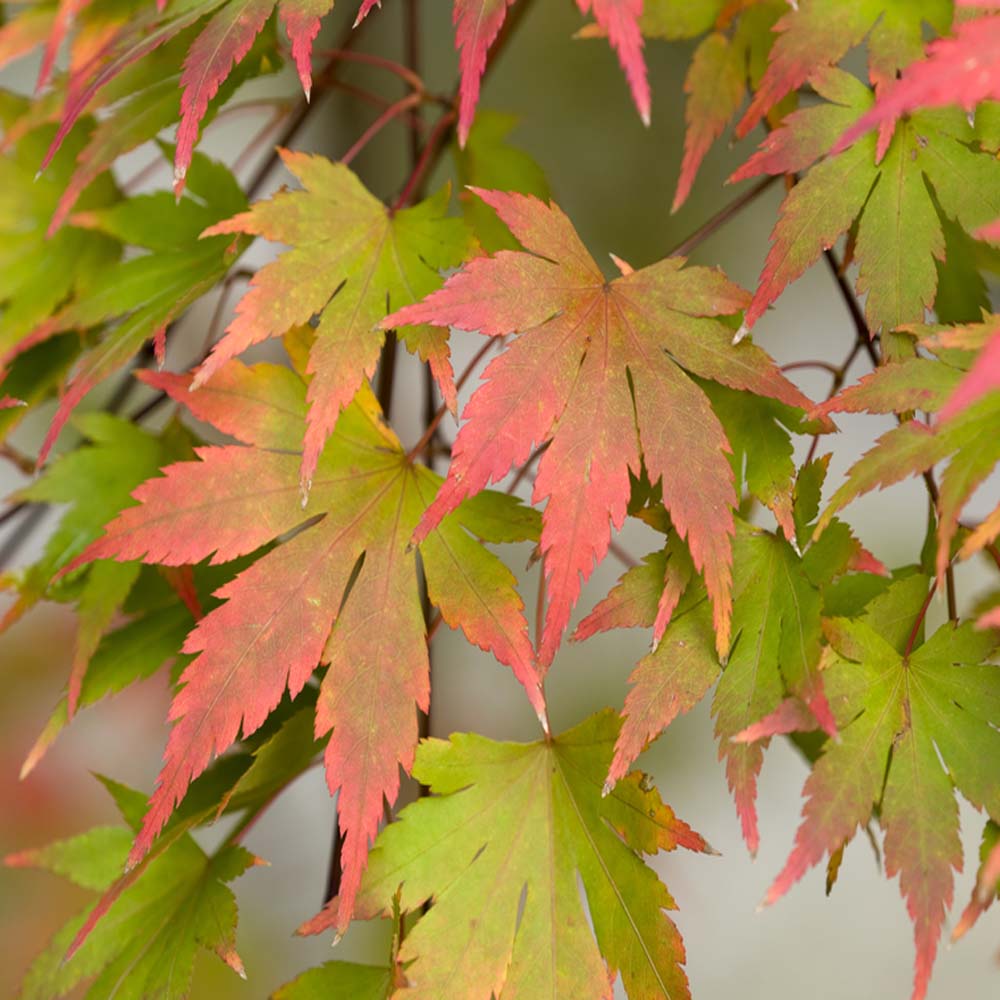 Acer palmatum – Japanese maple 10 Litre
Acer palmatum is a beautiful, small, deciduous tree with a rounded habit. This tree produces attractive, deeply lobed foliage which emerges as mid-green and turns to seasonal shades of orange and red before falling in Autumn. In spring, red flowers also appear, followed by winged fruits in autumn, this provides gardens with regular, small bursts of eye-catching colour and seasonal interest. The Japanese maple will reach a mature height of 8m, growing in moist, well-draining soils. When planting ornamental acers, we recommend that they are planted in positions that provide plants with shade in the morning and full sun in the afternoon. This will help to avoid leaf scorch caused by excessive exposure to the sun or the evaporation of morning dew on the leaves. Often planted for its foliage, the Japanese maple is a popular architectural plant, ideal for planters, city gardens and rock gardens.
If the size you require is not listed, please call for current availability and delivery options as we are always updating the stock we have for sale at our tree nursery in Essex.
All prices are inclusive VAT
PRODUCT AVAILABILITY

BUY NOW - IN STOCK
In stock, available for nationwide delivery or collection.

LOCAL DELIVERY
Too heavy/large to ship by normal carrier. Customer services to arrange.

PRE-ORDER
Not in stock currently, usually only a short order time.

OUT OF STOCK
Not available at present.
If the availability below is not listed as 'In Stock' please contact us for more information regarding the item. We are always updating the stock for sale at our tree nursery but some varieties may only be available through the winter season.
Acer palmatum – Japanese maple 10 Litre
PLANT INFORMATION
Botanical name/s :

Acer palmatum

Common name/s :

Japanese maple

Flower / Foliage :

Green, lobed leaves turn orange/red in autumn. Red flowers in spring, followed by winged fruits.

Plant type :

Deciduous

Flowering period :

Summer

Mature height :

8m

Mature spread :

Up to 5m

Growth rate :

Moderate

Recommended usage :

A popular architectural plant, ideal for planters, city gardens and rock gardens.

Nursery grown :

Yes
AFTER CARE / PLANT MAINTENANCE
Once planted, Acer palmatum will need watering throughout the first growing season, but make sure not to over/underwater.
Check tree tie / stake isn't rubbing and / or too tight or too loose on the trunk.
Check for and remove any dead, decaying, diseased or crossing branches.
Remove any weeds from around the base of the Japanese maple tree (including grass).
Position/Aspect :

All aspect, dry conditions or excessive exposure can cause leaf scorch.

Soil :

Acer palmatum tolerates some lime but colours better on acid to neutral soil.

Hardiness :

Hardy in most places throughout the UK.

Plant maintenance :

Low maintenance. Light pruning required.
How do I order from King & Co?
Order online
Your order may be placed via our Online Shop, which is fast simple and secure.
After your Online Shop order has been placed we will send an order confirmation email to the email address provided. This will provide you with details of your order, including the order number, which you should check and retain for your records. If there is an error in your order requirement, please contact us as soon as possible quoting your order number, so that we can rectify prior to dispatch.
Phone us
We will take your credit or debit card payment over the phone. Simply call us on 01376 340469 and one of our experienced team are always available to discuss your order.
From our Nursery
Collect your trees or shrubs from our Nursery in Rayne.
Payment
We accept all major credit cards including: Maestro, MasterCard, Visa Credit, Visa Electron and Visa Debit.
How can I expect delivery from King & Co?
Overnight to your door
We can delivery to you anywhere in England and Wales via an overnight courier service (two days for Scotland & Ireland).
Via Online Shop
Orders placed via our Online shop if placed by 10am Monday –Thursday can be delivered to you the very next day. If placed on a Friday – Sunday delivery would be on Tuesday.
We deliver by national overnight courier service.
Should you require a specific delivery date, let us know in advance and we will arrange for your delivery to arrive on your required date.
Every tree and plant is packed to ensure your order arrives safely.
For large trees or quantities of trees and plants
Please phone us to discuss, we are usually able to deliver to you via a dedicated vehicle.
For local deliveries
We will deliver to you in our local area and we will be pleased to arrange this with you whilst you are visiting our Nursery or via the phone. We also provide a planting service.
Planting service
We have our own installation teams to carry out planting in Southern & Eastern England. Please call us to discuss, we are always happy to provide you a quotation.